Details of the Pan American Road Cycling Championship in Panama 2023
---
For the first time in the history of Central America, based in Panama, the most important cycling event on the American continent will be held: the Pan American Road Championship, accompanied by the annual Congress of the Pan American Cycling Confederation. All this will take place from April 18 to 23, for which the Panamanian capital is ready.
This contest has been held since 1974 and the XXXVII edition will be held with the customary modalities of Individual Time Trial and Road for the Elite, Sub-23 and Junior categories in men, as well as Elite and Junior in the case of women.
This version grants a direct quota towards the Olympic Games to the Elite champions of the route, at the same time that it will deliver important points for the UCI world ranking towards the qualification for the Paris 2024 Olympic Games in the rest of the specialties called.
The presence of the majority of the 44 National Federations of the countries of the continent belonging to COPACI and five associated members, attached to the UCI and recognized as the only authorities in this discipline by their respective National Olympic Committees, are expected.
The organizers have planned to carry out the event the Gonzalillo – Pedregal Highway (Vía Panamá Norte), in Panama City, where there will be a circuit of 12.8 kilometers in each turn.
As for the COPACI Congress, it is scheduled for Thursday the 20th in the Bellavista Hall of the El Panama hotel, where in addition to the continental authorities and the presidents of the national federations, the presence of the President of the International Cycling Union David Lappartient is confirmed. .
The day before, the UCI Exchange Platform will be held on the stage itself, which will be taught by Christopher Bifrare, Manager of Transversal Sports Operations; Laurent Bezault, Route Manager; Steve Côté, Director of International Relations and Jacques Landry, UCI Director, who will address, among other topics, Race Safety, Tools and resources for National Federations, as well as Satellite Centers on the Continent.
Next we leave you the complete program of this meeting of work and competitions.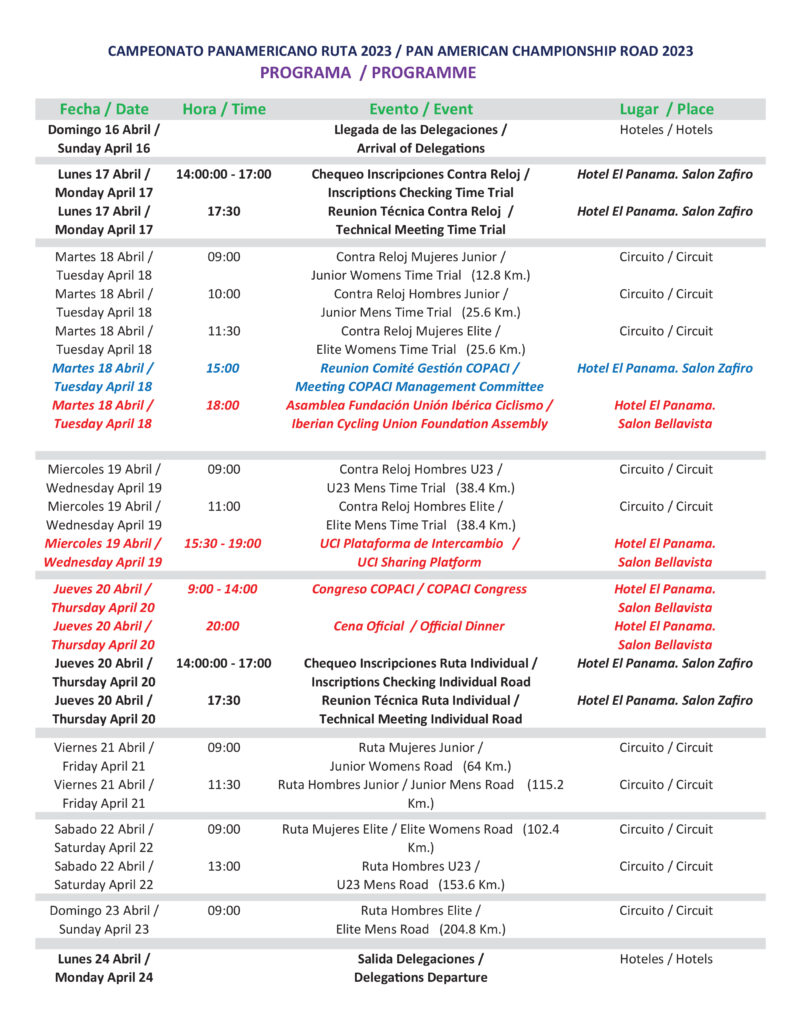 Source: copaci.org
 Road Cycling COPACI American Championships 2023 Discussion Thread
 Road Cycling at the Summer Olympic Games Paris 2024 Qualification Tracker
---